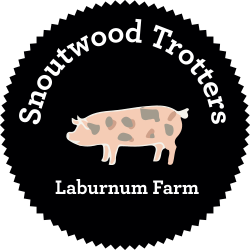 Laburnum Lane, Great Sankey
Warrington, WA5 3LE
Next sale: Saturday 24th October

Snoutwood Trotters
Here at Snoutwood Trotters, we keep pedigree Gloucestershire Old Spot pigs, a traditional rare breed, on our small family run farm in Great Sankey, Warrington.
All of our pigs are free range and outdoor reared, spending their entire lives outdoors in their natural environment. This enables them to move, forage and interact with each other in the fresh air, just the way pigs should be able to.
We believe that this contributes in creating the most delicious Snoutwood pork produce, which really does speak for itself. So why not come along and try it for yourselves, meet our pigs and all of our other animals too
We look forward to sharing our hobby with you.
Keep it Snoutwood!
Liam & Rebecca. X
Upcoming Sales
We run our Free-Range Pork Sale every fortnight on a Saturday, 10am until 2pm.
Here are our next sales:
Saturday 24th October
Saturday 7th November
Saturday 21st November
All of our pigs are born and raised here on our farm, and are 100% free range , with plenty of space to move, forage and do exactly what pigs like to do.
We believe that our produce speaks for itself.For a full product price list, download the PDF below.
Find us!
Snoutwood Trotters is part of Laburnum Farm. We are on Laburnum Lane just off Liverpool Road (A57), which can be reached by the M62, junction 7.
Laburnum Farm, Laburnum Lane, Great Sankey, Warrington, WA5 3LE
If you still need help getting here, then enter your postcode below and Google Maps will lead you right to our barn door!
Recipe Ideas
Needless to say, Snoutwood Pork can be the key ingredient to some incredibly tasty meals. We're regularly trying out new recipes and so are our customers.
Here are a few of our favourites for you to try out at home:
If you've made something amazing with Snoutwood Pork recently, then let us know via email and we'll try and post it on the website!
By now you know the basics, what we sell, where we sell it and when. For those of you keen on learning more about Snoutwood and how we got started, then keep on scrollin'!
---
Snoutwood Trotters is run and managed by boyfriend and girlfriend, Liam & Rebecca. Here is...
Our Story
A piggy present
Back in 2009, on Liam's 21st birthday, Rebecca's Dad Walter asked Liam what he would like for as a gift, to which he responded "pigs". Nobody believed that he was serious (it's not a typical answer from a 21 year old). However, he was told that providing he fenced the land and built a suitable pig ark he would be able to buy 2 small pigs to be kept in a spare piece of woodland on the small holding.
Salt & Pepper
Much to everyone's amazement, Liam arrived the next day, spade in one hand and spirit level in the other, ready to begin. We called in the help of some fabulous friends and family to help build our first pig ark. After some real hard work making the woodland as pig proof as possible, we collected our first two pigs, Salt and Pepper.
Pigging out
After our first two pigs, we decided that pig keeping was inevitable and we wanted to breed our own litters of piglets on the farm. We travelled across the country searching for the best Gloucester Old Spot breeding stock, gaining knowledge along the way, meeting some fantastic people and friends for life.
Where we are now
Snoutwood Trotters has developed and improved over time thanks to sheer hard work, determination and most importantly our passion for keeping happy and healthy pigs. We have already been recognised in the Top 3 in our region at the National Sausage Competition with our Snoutwood Pork and Black Pudding sausage entry, and believe that we have one of the finest free range pedigree Gloucestershire Old Spot pigs herds in the country!
Our Customers
Our snoutwood customer base has strengthened over time as we strongly believe that we have the best, loyal customers that we could possibly ask for. Not only are they our customers, but friends too. We are overwhelmed at the support and love that our venture has generated and never envisioned that we would be where we are today.
Keep it Snoutwood!
We would love you to come and share in our passion and reap the benefits of delicious, fresh, free range pork produce.
We look forward to meeting you all soon.
Keep it Snoutwood!